Messages

10
Reactions

13
State

TN
Country

United States
So everyone wanting the Surround View Monitor, Wireless charging and heated rear seats, these items will be coming in a 2019 limited edition model. Only 500 units will be produced and only one color, Deep Chroma Blue.
https://www.kiamedia.com/us/en/medi...-unique-features-to-kias-fastback-sport-sedan
500-unit Production Run Promises Quick Sell-Out
Exclusive metallic blue paint, wheels and luxurious interior add to Stinger?s stunning appearance
Unique badging make Kia?s Stinger GT Atlantica a one-of-a-kind vehicle
New tech and luxury features previously not offered on the U.S. Stinger provide an added level of convenience
IRVINE, Calif., March 6, 2018 ? The Stinger sport sedan has ushered in a new era for Kia and has redefined driving enthusiasts? opinions of the brand since going on sale in late last year. Continuing that excitement and arriving this summer, the limited-edition Stinger GT Atlantica celebrates the cross-Atlantic collaboration between the U.S. and the vehicle?s Germany-based development roots and introduces exclusive features not previously offered. With only a 500-unit limited-production run, the Atlantica edition is guaranteed to sell out quickly. The Atlantica edition includes unique paint, wheels and Nappa leather interior. Exclusive numbered badging inside and out, along with a bevy of technology and luxury features, make this 2019 Stinger truly something special.
?We recognize Stinger is something special and wanted to commemorate the 2019 model year with a stand-out variant,? said Orth Hedrick, vice president, product planning, Kia Motors America (KMA). ?Out of the box, the Stinger is a tried-and-true sport sedan with much of its development taking place on Germany?s grueling N?rburgring race circuit. The Atlantica edition introduces more European flare while distinguishing itself with exclusive badging and features not previously offered by Kia in the U.S. market.?
Based on the Stinger GT2 AWD, the Atlantica edition is immediately recognizable with its Deep Chroma Blue metallic exterior paint. The aggressive 19-inch alloy wheels come direct from the European Stinger and the large-font Stinger badge1 across the rear deck lid harkens from the Korean-spec vehicle. An exclusive Espresso Brown Nappa leather interior complements the exterior and a rich black suede-type headliner adds a premium touch to an already well-equipped cockpit. Unique features to the Stinger GT Atlantica include a Surround View Monitor2, a wireless phone charger3, and heated rear outboard seats. Three tasteful Stinger Atlantica badges, one on the front center console and two that flank both front fenders, round out this exclusive and limited package. Final pricing hasn?t been determined and will be available closer to the Atlantica edition?s on-sale date this summer.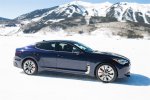 10