Currently a little frustrated at all of the prep work needed to drain the oil. KIA was nice to include an access hole for the filter but completely skipped over the drain plug.
Here's my fix in process.
1) Fumoto F106SX M14-1.5 SX Series Drain Valve
https://www.amazon.com/dp/B01HP5V092/ref=cm_sw_r_cp_api_i_rj7NCb97S7W25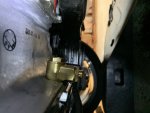 2) 29121-J5000, Access cover
https://www.kiapartsnow.com/genuine/kia-0~29121j5000.html
This will finish on the next oil change, I have the cover on order now and plan to mirror the front splash shield cut out. This way the panels can stay up while access is allowed.