Messages

14
Reactions

5
State

VA
Country

United States
What I Drive

440WHP Kia Optima
Hello everyone. I'm David from PROSS - LAP3
PROSS - LAP3 is the tuning division of SPIRRA of Korea. If you aren't familiar with the SPIRRA, it is a Korean super car manufactured by Oullim Motors.
SPIRRA is the most powerful KDM Production super car ever engineered and manufactured up to 600HP based on Hyundai's V6 platform.
We work very close with Hyundai & Kia engineers on many projects, and we are very experienced with this platform.
We develop ECU tunes for KDM platforms, as well as Euro & JDM. We've been offering full ECU tuning for the entire KDM lineup for many years with great success, including 800+WHP Tiburon, ~700whp Genesis Coupes, ~550whp Optima & Sonata 2.0T, ~350whp Elantra Sport 1.6T and more. The Stinger has a lot of potential, and we are here to take the Stinger to the next level.
We didn't know about this forum just until recently, and we'd like to share our work-logs for the Stingers.
If you'd like to see some of our work logs, you can visit our Facebook page or join LAP3 Performance discussion group on Facebook.
- David Chung @ LAP3- PROSS USA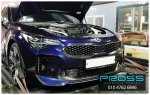 Last edited: