We've talked about it and it's happening again! This is a family oriented event this time...
NEW Date: Nov 10, 2018
( We had to change the date since the previous date has conflicts with a BIG Motorcycle rally being held in Galveston that same weekend)
Where: Galveston,TX
Details:
1. Meet up points: DFW people- Meet in Madisonville @ 9:30am- leave out 10am to meet in Texas City @ 12:30pm
Austin/San Antonio- Meet Buccees in Katy,Tx- 11am- leave at 11:30 for Texas City
Houston- meet either at 1 of the above
Leaving Texas City Buccees @ 1pm to cruise Galveston.
2. Cruise details- Take 45 into Galveston, exit 61st street. Drive to Seawall blvd then cruise Seawall. Photo op when we get to East beach. Then leave to go across Ferry. After Ferry exit- go to Ft. Travis park ( 1 mile past Ferry on right). This park is free. Playground, covered barbecue areas, bring lawn games. There is no beach, but long seawall on the water overlooking the bay and Galveston port. For those not wishing to cook out- we will be leaving to go to Stingaree's Restaurant at Chrystal Beach.
Reservations for restaurant will need to be made- so will need a count by Sept. 15th.
3. We have a member who is a travel agent who is looking into hotel, VBO, etc... deals.
Good afternoon everyone Iam the person that will booking the hotel for our stay in Galveston. The more rooms we book the bigger the discounts. I am a certified travel agent
Thank Maria
4. Please download the "Zello" ap so we can communicate while driving.
Please respond if you plan to attend. We need a count. Also respond if you will be going to the Stingaree Restaurant (count for reservations).
See our FB page- The Texas Stinger Swarm (recommended) and Texas Stinger Owners. Sheila has created a window sticker for us!! Of course- all Stinger owners from ANY state are welcome to attend!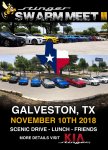 Thanks ATXStinger
for creating the flyer!
Last edited by a moderator:
2