Messages

26
Reactions

33
State

Non-US
Country

Germany
What I Drive

KIA Stinger GT 3.3 AWD EU
Dear Stinger Fans,
end of March the waiting time was over and I could pick up my brand new Kia Stinger 3.3 European full trim in Germany. I've ordered back in late 2017 and it was a long waiting time. The Stinger replaced a VW Scirocco R.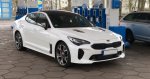 During waiting time I got in touch with the CEO of Tubi-Style in Maranello, Italy. (contact was established by a friend). It became obvious that, even if they usually make high quality exhaust systems for super sports cars like Ferraris or Lamborghinis, they were very interested in developing an exhaust system for the Stinger. So we agreed that they will get my car for research & development as soon as I will get it.
https://en.wikipedia.org/wiki/Tubi_Style
So only a few days after I've picked it up at the dealership, a truck arrived at my house and picked the Stinger up for transportation to Maranello.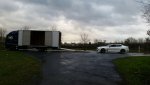 One day later it arrived in Maranello and I got the first two photos showing it in Italy.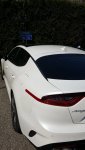 So, what will Tubi-Style do? They will develop a valve exhaust system for the fantastic Kia Stinger. What will it sound like? What will it look like? I can't tell you right now because the development will start tomorrow. Homologation is scheduled for April 20th and that's the day when I will fly to Italy and get the Stinger back. If you want to know what Tubi-Style does follow this link, which sounds very interesting and promising:
http://www.tubistyle.it/tubi-style-valvetronic-exhaust-control-unit-with-by-pass-valves-drive-your-sound/?lang=en
I am very excited to see what the car will sound like. I am sure that the experienced guys from Tubi Style will do a great job. By the way the CEO was very impressed by the Stinger. He praised the build quality even in comparison with german brands.
So, now you know the story about my car - stay tuned ...
Greetings
Andy
Last edited:
13