1000 Posts Achieved
Staff Member
Messages

1,226
Reactions

295
State

IA
Country

United States
Good morning boys and girls and welcome to May!
The bad news is that my suspicions were right. They lowered incentives for the warm weather. They did this for two reasons, in my opinion. First because of production. Kia was expecting a 65/35 ratio of 2L to 3.3L because they thought people were going to shy away from a $50k Kia. Instead, the sales mix has been more along the lines of 40/60 with the 3.3L outselling the 2L. This means that there are extra 4cyl's out there.
The good news is that traffic on the Stinger has picked up very considerably in the last 15 days. So the second reason is because summer has finally arrived and the folks looking to enjoy a nice summer time ride are coming out.
Now, the initial reaction will be frustration because a number of you have expressed a belief that they're not selling and that Kia should just give them away. What needs to be remembered is that the decrease in incentives means stronger resale value and higher demand. It's a good thing in the long run. None of us want our cars looked at like a lesser brand or vehicle like many of our competitors that don't care about the image of their product and they customers. LOL
That said, here they are.
They DID throw out financing for 84 months for well qualified buyers! Enjoy!
-MurlinatoR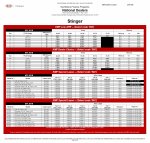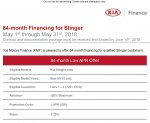 1