Messages

18
Reactions

8
State

NY
Country

United States
What I Drive

Stinger GT2
The amp, subs, and box I used were all pulled out of storage from an install 15+ years ago in a Trans-Am.
I custom made that box for the Trans-Am and am just re-using it.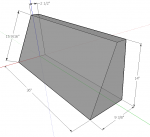 I drew up this 1.1 cubic foot internal volume box as a possible custom design for the Stinger. Dimensions are based off of using 3/4" MDF.
Edit: I checked the dimensions and cut the height down from 15" to 14" to clear the hatch cover when it rotates up.
Note: with this design you add .9CF of internal volume when you add an inch onto the depth. so by adding an inch (depth at top would be 3-1/2" and the depth at the bottom would be 10-3/8) then you would be at 1.1CF + .9CF = 2CF
I'm debating on making that box or going with custom formed fiberglass boxes behind each of the rear tires similar to this.
http://www.instructables.com/id/How-to-Make-a-Fiberglass-Subwoofer-Box/
It would be a lot easier to do the box behind the seat and you only really loose a couple of inches behind the seat...
Still unsure.
Last edited:
1