Messages

1
Reactions

0
State

CA
Country

United States
What I Drive

Stinger GT 18'
Hi All,
BORLA! Borla exhaust (pardon my spelling)
Unfortunately after a fun couple thousand miles, a combination of factors (neighbors, wife, babies...) are forcing me to go back to the stock exhaust and sell this beast of a setup.
Used for 2k miles. Can send audio and video when you message me of it on the car.
Sounds great, not too loud, great idle and low rev rumble around town.
Looking to move this before the holidays, shipping from bay area.
S-Type Series: Opening up your exhaust to make your engine more efficient and freeflowing; the S-Type Series boasts a quality of performance oriented sound. This system will allow your car to be more aggressive but still allow you to cope with your normal spirited day to day driving.
Aggressive plus sound
Increased exhaust flow for better performance
Better fuel economy at cruising speeds
Definite performance tone at cruise with a throaty - aggressive sound during acceleration
Custom designed for each application
Patented straight-through muffler design reduces backpressure while absorbing sound waves
Street legal in all 50 states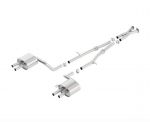 Last edited: