Messages

590
Likes

70
State

SD
Country

United States
Hi All,
I know it's been awhile and I haven't posted much. It has been a hectic few months. If you didn't know, my name is Tyler and I recently took a job at Joseph Airport Hyundai/Genesis and would love to spread the enthusiasm of the brand! There is much to learn about it and I would be happy to answer any, and all, questions that you may have. I've been here awhile and know the buzz on the Stinger is holding strong. Let's keep it going with Genesis. I'd enjoy having your business and making a friendship!
I own a Hyundai Genesis myself so I am not talking just to gain sales. I love the car, product, brand, and what it has to offer. If I didn't think the product was worthy of your attention, I wouldn't be working here. Let's chat!
"Buy From Ty"
Joseph Airport Hyundai/Genesis
1220 West National Road
Vandalia, OH 45377
937-665-1777
937-474-4521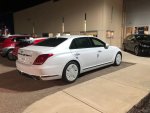 G90 fresh off the truck and is available for purchase.
More to come...